Summary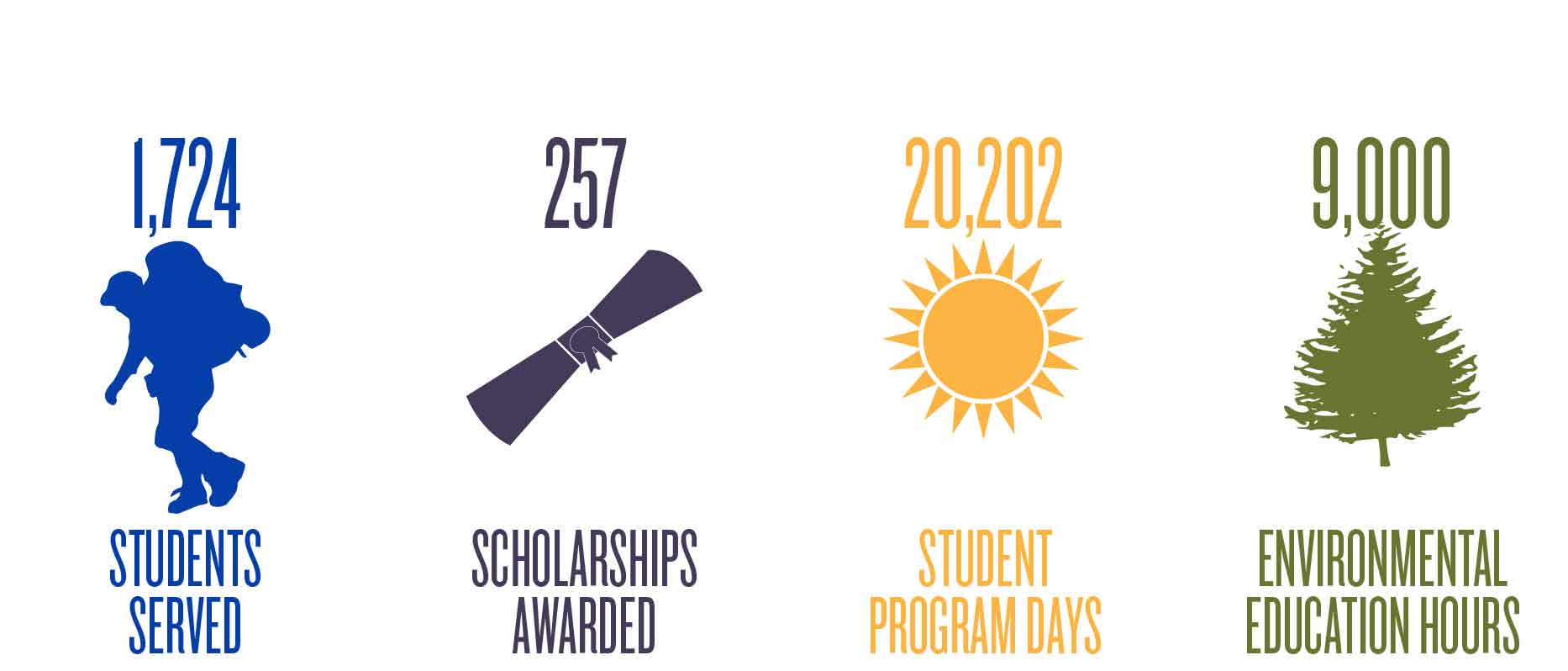 Highlights
Lake County Engagement
Our work with the community in Lake County, home of our Rocky Mountain Center, is a bright spot for COBS. This year, our summer semester students took local Leadville students from Full Circle Lake County rock climbing at Camp Hale. Our semester students practiced skills learned in their rock camp section and experimented with their voices as leaders, planning climbs, and facilitating framing and debrief. While we have been working with Full Circle for the past three years, this year felt extra special as a former COBS staff member working with Full Circle helped coordinate!
New Leadership & Southwest Success
2018 was a big year of transition at the program level at COBS with two new program directors for our Rocky Mountain and Southwest Programs, Elizabeth Williams and Lance Plank. These two provided strong leadership and modeled an emphasis on student development and outcomes for our field staff teams. The Southwest Program also had our busiest spring since 2015, with 1,367 student program days. The Moab base is growing, too - construction and renovation on base, generously support by the Kahlert Foundation, was completed, including landscaping, construction on the boat bard, and purchasing new boats. We are excited to celebrate an incredibly safe summer for both programs in 2018.
Increasing Diversity, Equity and Inclusivity at COBS
COBS is excited to be addressing issues with diversity, equity and inclusivity (DEI) in our organization and industry to activate our staff and empower our students. In 2018, with support from Wend Ventures, COBS worked with the Avarna Group, a leading consulting group in the diversity, equity and inclusivity sphere, to review our staff recruitment materials through a DEI lens. We are also working with Avarna to address unconscious bias in the field, and conduct a climate and culture audit. We look forward to continuing this journey in 2019.
Staff Training Curriculum Revamp
COBS developed and carried out a new module-based staff training system in 2018. This allows us to focus on specific development areas for staff, from student management and leadership skills to specific technical skills like mountaineering, and take a big-picture view of our training, staff and organizational development. We are now able to modify specifics in our training and react to feedback and trends, minimizing some barriers for new staff and giving more direction to current staff. These trainings will provide clearer insight into which trainings support what work most effectively, helping us build a much stronger organization and helping our program teams best serve students and families.
Scholarships
We at COBS are passionate about ensuring that more young people have access to transformational experiences in the outdoors, and we know you are too! COBS supports partial scholarships to help students close the gap and get themselves on course through our Student Opportunity Fund, as well as several named scholarships for youth, thanks to the generosity of supporters and partners.
Our ASCEND program provides full scholarships to high-potential high school students with significant financial need (qualifying for free or reduced lunch). We are proud to partner with local and national youth-serving organizations to connect students of need to COBS course opportunities through ASCEND We are thrilled to have doubled the number of ASCEND students on longer capstone courses in 2018 – from 29 served in 2017 to 63 in 2018. These students attended 1,141 days in the field, or an average of 18 days each. ASCEND served an additional 194 students on shorted groups courses over 709 program days in 2018.
Boots on the Ground!
To support the exciting growth of the scholarship program, COBS began building out our gear locker in 2018, providing scholarship students with quality gear that may be cost-prohibitive otherwise. Thanks to the support of generous donors, our scholarship program was able to purchase 21 pairs of boots. That's 21 pairs of boots that will collectively travel hundreds of miles through our public lands, and will carry students on their journey to uncovering their inner superhero, the depth of their compassion and the capability of their leadership. Thank you to everyone who made this possible in 2018!
Technology and Transference: tools for bringing lessons of the backcountry home
As the needs of our youth change, we are adjusting our practices to better serve our students and families. With support from Wend Ventures, COBS launched a new initiative in 2018 to better support students in the field, bring families into the journey, and give students tools to bring lessons of the backcountry home. Apple and satellite devices were piloted in the field last season to help students with group journaling, taking photos, and receiving words of encouragement from home. Our student services team also developed a post-course transference toolkit, with tips on ways to serve others and practice COBS values back home, book and podcast recommendations for further learning, and more.
COBS Southwest Program 50th
COBS celebrated 50 years of running Southwest courses in 2018 with a weekend of community, service and festivities in Moab. In April, over 50 COBS community members, including staff new and old, alumni and friends, gathered to share stories from their time in the canyons and on the rivers, complete service around base, and share meals and laughs at the amazing new and improved Moab base. Through the weekend's service we: stained 1320 square feet of decking, 60 feet of railing, and the 230 square-foot outdoor shower house, planted over 325 plants and bushes, pulled countless weeds and completed the rock work on the vista, painted and stocked the boat barn and moved 76.79 TONS of gravel! Thank you for 50 amazing years in Moab!
Black Tie & Tennis Shoes
With the support of our amazing sponsors, board members, staff, volunteers and friends, 2018's Black Tie & Tennis Shoes gala was one for the books! Featuring remarks from keynote speaker Luis Benitez, Director of the Colorado Outdoor Recreation Industry Office and former COBS staff, and COBS instructor Ella Hartley, the event connected guests to the field with hilarious stories, authentic insights, and poignant points of personal reflection. The Boettcher Foundation recognized Don Woods for his amazing support of COBS, work with Boettcher and the Denver community, and presented COBS with a trustees grant in support of the staff lodge in Leadville. Best of all, we raised over $285,000 in support of our students and our mission – a new record!
Partners in Service
Service has been a COBS cornerstone since our founding in 1962. Together, COBS students delivered over 2,100 hours of service to partner organizations while on course, rolling up their sleeves to help others and learning about compassion and leadership along the way. We are so grateful for the ability to give back to our communities, and for our amazing partners that facilitate these special learning opportunities for students. 2018 service partners included the US Forest Service, C4 (Leadville), Bureau of Land Management, Mission Wolf and Blue River Horse Center, Canyon Home Care and Hospice, Community Rebuilds, Youth Garden Project, Epicenter and PACT Green River.
COBS Comprehensive Campaign
In November 2016, the COBS Board of Directors voted unanimously to undertake an $8 million, two-stage campaign in support of our vision to continue the strong growth of our scholarship program, complete our capital projects at the Leadville Mountain Center and the Moab base, and support the professional development of our world-class staff to better serve all students.
Just as our legacy founders created the framework for the School's establishment, the comprehensive campaign is designed to deepen and ensure the platform now for the next generation of leaders, and to build on our transformational work with staff and students. COBS has raised more than $3.5 million towards the first $5 million phase. We are grateful to our dedicated campaign cabinet and advisors and all of our amazing campaign supporters who are helping to ensure that the next generation of COBS students and staff have are successful in the field and in their communities.