Letter from our Executive Director, January 13, 2021
Dear COBS Community,
After running a successful fall season and taking a much-needed break over the holidays, we are preparing for our spring and summer courses. We learned a great deal from running our fall courses in terms of our COVID guidelines and protocols and, most of all, about the remarkable value of human connection. Our students came from all over the country to join each other for expeditions through rain, snow, desert, and mountains – and left with lifelong friendships and a renewed sense of their own resilience. It was a reminder to all of us that there is unparalleled magic in an Outward Bound experience. And it is so needed.
We are committed to running expeditions in 2021 while mitigating the risks associated with COVID-19. Keeping our staff, students, and communities healthy not only ensures we are doing our part to move our world past this pandemic, it also allows us to continue to offer these life-affirming experiences. We intend to keep our guidelines and protocols in place for the indefinite future and adjust as new information becomes available. If you are a currently enrolled student or family, your course advisor will work closely with you to prepare you for course and understand our safety protocols.
While 2021 brings us hope for the future, we have also seen stark reminders that there is still a lot of work ahead. As on course, so in life: we have an opportunity to reflect and respond to challenges with thoughtful dialogues, resilience, and above all, compassion. At Outward Bound, we teach our students that there is more in us than we know, and together we can navigate the path forward.
See you in the field,
Lauren Schmidt
Executive Director, Colorado Outward Bound School
***
Letter from our Executive Director, originally published July 14, 2020
Dear COBS Community,
While our basecamps are quiet and we miss our students dearly this summer, we've been hard at work preparing to run courses this fall. Our staff, our Safety Committee, and our national risk management team have been assessing internal and external factors and planning for our approach to mitigating risk at our basecamps and in the field.
The health and safety of our staff, students, and communities remain our top priority and we are hopeful that we will be able to run courses starting in September. As with most businesses and institutions, there will be new guidelines and protocols in place to do so. If you are a currently enrolled student or family, please click here to read more about our revised program protocols.
2020 has brought many opportunities for action, innovation, and reflection and every day, I am reminded of the importance of tenacity, resilience, and compassion – especially among our youth. I am also reminded how important Outward Bound is to our community. The support of our staff, alumni, donors, and partners has been astounding. We look forward to returning to serve our students and families and to continue our mission to change lives through challenge and discovery.
All forward,
Lauren Schmidt
Executive Director, Colorado Outward Bound School
***
Letter from our Executive Director, originally published May 22, 2020
Dear COBS Community,
It has been a  challenging  few months for  Outward  Bound and this week, in particular, marked  a critical decision point regarding our summer courses.
The COVID-19 pandemic has had a broad-reaching impact for Outward Bound, our communities, and  society as a whole. We are still in the learning stages of how businesses will resume and educational organizations like ours can best deliver upon our mission.   
The  Outward Bound  system, including regional schools, national safety and risk committees, and admissions teams,  has worked together for the past three months to determine paths forward while keeping the health and well-being of our staff and students as a top priority.  Based on our analysis and criteria developed  through that process,  combined with  our own program and safety considerations at  COBS and  the current status of local  and  state guidelines  in  Colorado and Utah,  the  Colorado Outward Bound School has  decided  to  cancel all courses  for the summer.   If you or someone in your family is enrolled on one of our summer courses, please refer to the email you received on May 21 for next steps.
 This decision, though extremely difficult to make,  takes  into account a holistic view of the organization including staff and student safety, general risk management, social and community responsibility, the uncertain trajectory of the coronavirus in the coming weeks, and the uncertainty of outside regulatory factors. 
What we do carries an inherent level of risk. Although we are leaders in managing risk, the presence of COVID-19  presents  an additional  level of  risk and uncertainty that would require significant modifications to our courses and ultimately impact the Outward Bound experience. Some of the current recommended practices like social distancing, for example, can't reasonably be implemented on our courses at this time without fundamentally altering the course experience.  
We are also impacted by public lands and gateway community closures in  areas where we operate. As land use permit requirements are adjusted, access to our wilderness classroom is limited. And we are wary of  our  impact on the resource-stretched rural communities we rely on to support our courses.  
While travel restrictions remain unclear  at this time, we recognize that Colorado and Utah are destination locations, often requiring travel by plane to get here. We realize there may be a resurgence of the disease that further limits travel and, ultimately, our students' ability to get to course.  We also recognize our social responsibility to our communities to limit sources of additional exposure to COVID-19.
We  wholeheartedly believe in  the importance of Outward Bound in this time of uncertainty for the world. The values learned through an  Outward Bound  experience  are  needed now more than ever. We know we have a lot to offer our students and communities  and we look forward to reconnecting with our students as soon as we are able. In the meantime, this has been a difficult time for our staff and our organization. 
Even though we are scaling back our operations significantly, our fixed costs combined with the loss of tuition revenue will have a serious financial impact on us. Your generosity at this time will allow us to come back stronger in 2021. Any donation made to COBS by clicking here or by participating in our virtual Black Tie & Get Outside campaign (starting in August) goes directly toward supporting our mission to  change lives through challenge and discovery.  This option is tax deductible for you and will make a tremendous difference to COBS as we work through this very difficult time.
As we head into this next phase for COBS, we encourage you to lean into your communities, stay connected, and pursue your passions. We look forward to keeping you in the loop, involving you in some of this work, and proceeding ahead towards our objectives.
Thanks for your support. Our mission and conviction are indefatigable and we will emerge from the pandemic stronger and more resilient, as a society and as an organization. As we look ahead, we have embraced the reality that there is no "back to normal" -- but there is forward to better. 
 
Lauren Schmidt
Executive Director, Colorado Outward Bound School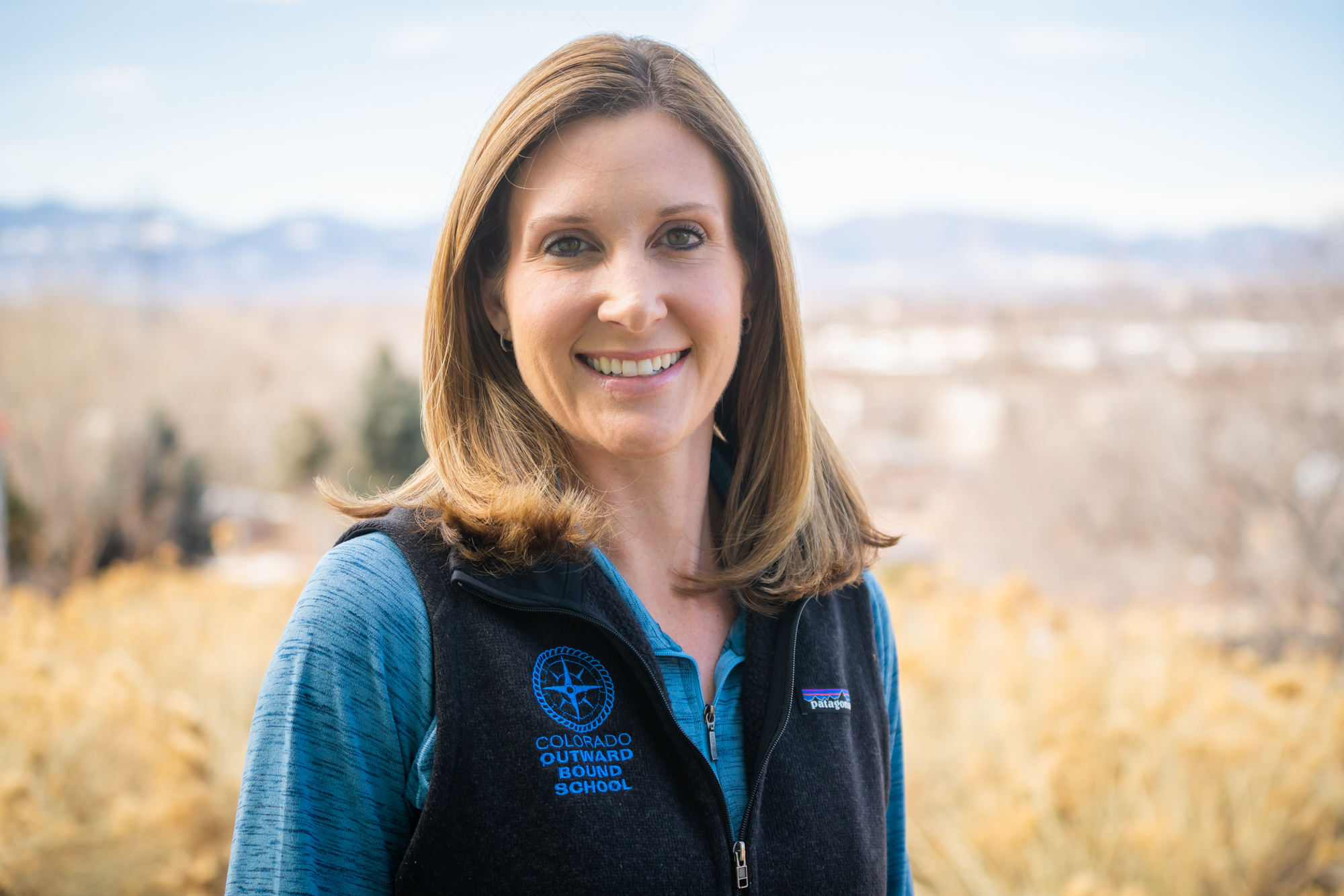 P.S.  Please see below for the official announcement from Outward Bound USA and  click here  to read a letter from OBUSA's Executive Director. 
For the remainder of 2020, Outward Bound in the United States will offer limited programming   that meets strict pandemic response requirements established by OBUSA in coordination with   regional Outward Bound Schools and aligned with the regulations and public health guidance at  local, state and federal levels.  In light of  the numerous and significant challenges of managing the threat of COVID-19 to  students, staff and our communities, Outward Bound summer programs will be significantly  reduced.    
This decision has unique implications for each regional  Outward Bound  School. We acknowledge and empathize with those shouldering the impacts and repercussions: our  Schools, our staff, our communities and our  organization as a whole. There will be reductions in  operations and students served, community impact and likely further reductions in staff.  We   make  this decision together, knowing it is the right thing to do and with the utmost regard for  the safety and well-being of those affected.  
The outbreak of the novel coronavirus pandemic is the very definition of uncertainty in the face of significant challenge. While a great deal remains unknown about the virus itself and how communities across the country will continue to be impacted and respond, what is abundantly clear is that it has never been more important for Outward Bound to demonstrate leadership in assessing, mitigating and managing risk.    
Outward Bound is ideally positioned with teaching locations in diverse and remote areas across the U.S. and a range of program types where the number of students, days in the field, types of activities can vary widely. With the guidance of  Outward Bound  USA Safety and Risk Committees, working in partnership with Outward Bound Schools, those courses, activities and locations that meet or exceed a risk management threshold will be offered.