George Kennedy McLeod
December 12, 1927 – July 4, 2020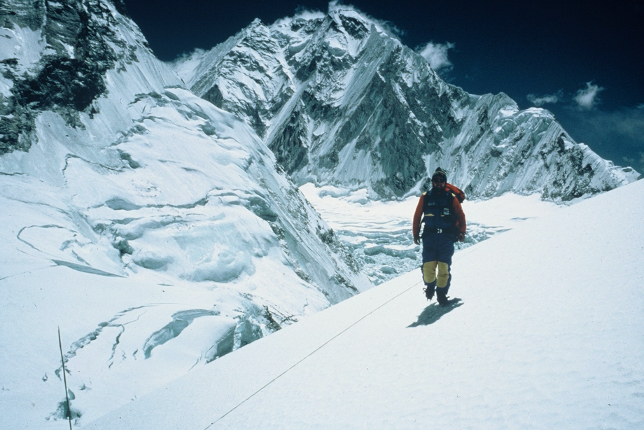 Mt. Everest West Ridge Expedition, 1985
George Kennedy McLeod was born in Aberdeen, Scotland, son of Jean Kennedy and John Dowd McLeod. His youth was challenging as the family was poor, his mother died when he was seven, and his father was quite abusive. After his mother's death he was raised by a stepfamily and told stories of eating hot porridge for breakfast, cold sliced porridge for lunch and sleeping five to a bed, heads at either end and feet in the middle. At the age of 14 his father forced him to leave school, get a job in a laundry and start paying rent. He was in his teens during World War II and often talked of the hunger and danger as Aberdonians survived rationing and Nazi bombings of the oil tanks near his tenement house close to the North Sea.
To escape from this drudgery, he became a renowned ice and rock climber, taking the bus on all days off to the hills outside Aberdeen. He formed a boys' club and took them climbing, hill walking and camping. He soon became a professional climbing and wilderness guide, working at the Scottish Mountaineering Centre at Glenmore Lodge near Inverness during his 20s and later in between stints in the Antarctic.
From 1957 – 1968, ages 30 – 41, he worked for the British Antarctic Survey and the Antarctic was home base. He held the much sought after job as General Assistant (mountaineer) which meant he had his own sledge dog team and spent many months in the field assisting surveyors, geologists and other scientists. He spent nearly seven years in the Antarctic: 1957 Anvers Island; 1958 Prospect Point; 1962 Hope Bay; 1963 Stonington, 1967 Stonington. He was Base Leader at Prospect Point in 1958.
George was a legendary dog driver who had the unique ability to combine affection and discipline with his huskies, a winning combination for a working dog team. He travelled thousands of miles with his dogs, often in very challenging conditions.
For his long and commendable service he was awarded the Polar Medal from Queen Elizabeth in a ceremony at Windsor Castle. This is an outstanding honor for someone with such humble beginnings.
The stories about George from the Antarctic are legendary. In 1963, on one of his expeditions, his dogs made it across a crevasse, but he and some of the sledge fell through and crashed 50 feet to an ice shelf. His teammates managed to get ropes down to him and he climbed up the rope using loops of rope with special knots, allowing him to inch his way up the rope despite having dislocated his shoulder, broken his ribs, and scalped his head!
En route to Stonington in January 1967 he developed acute appendicitis during the rebuilding of a new base at Halley Bay. Luckily there were three doctors and a dentist on the summer rebuilding project as they had not yet reached their wintering bases. George was successfully operated on in an improvised base surgery, He was able to rejoin his ship and continue his journey to Stonington.
In October 1967 he did a month-long dog sledging trip from Stonington Island to Fossil Bluff via Marguerite Bay. The crew spent 13 days in a three-man tent on the sea ice in a "lie up" during a period of sustained bad weather. His wonderful stories kept up the morale of his tent mates.
While in the Antarctic he heard about the Colorado Outward Bound School (COBS) and a famous rope descent near the Base Camp in Marble. Off to America he went in search of adventure. From 1968 – 1977 he worked for COBS on youth programs, manager's courses, the teacher's practicum, special short programs for school kids and courses for recovering alcoholics and men getting out of jail. During winters he served on the ski patrol for the new ski resort of Vail. While at Vail he met and married Karen McDonald. They had a daughter Shona Jean, born in 1971 and were divorced in 1973.
On one of these Outward Bound courses, Valentine's Day 1972, he met his second wife, Reola Phelps (Ricki Slifko at the time). It was love at first sight while snowshoeing in the San Juan Mountains and they married in August 1973. Their son, Ian Eric, was born in 1974 and Scott Hamish in 1977.
George's lack of formal education was always a sore point for him and one of his greatest accomplishments, right up there with the Polar Medal, was receiving a BA degree in 1978 from Loretto Heights College University Without Walls. He spent months cataloguing the knowledge gained from his scientific expeditions in the Antarctic and attended classes at the University of Colorado at Denver.
George continued to go on climbing expeditions. He climbed Mt. McKinley in 1977, volcanoes in Mexico, Illimani in Bolivia and was a member of the 1985 Mt. Everest West Ridge Expedition at age 59. He also trained a team of dogs for the Iditarod Dog Race in Alaska in 1987 for his 60th birthday.
George began working as a building contractor in 1977. He and Reola divorced in 1991 and he returned to Scotland in 1996 to be with a long-time companion, Fiona Thomson. He returned to the U.S. in 2006 suffering from Alzheimer's. He lived in two different care facilities until his death from Covid-19 in 2020 at the age of 92.
George became a legend in his own time. He will be remembered by everyone who knew him for his joyful personality and as a great storyteller with an infectious laugh and zest for life. His stories and songs walked many a weary or injured hiker down from a mountain adventure. He had superb outdoor education and mountaineering skills and inspired countless mountaineering students of all ages. He loved playing the guitar and convening nightly "sing songs," complete with Glenfiddich, his favorite Scotch. And for balance, he was not a perfect person, possessing an easily-aroused temper.
Please send any stories and photos you have of George to his son, Scott McLeod, [email protected].  These will be compiled on a website and put into a book.  
About the Author