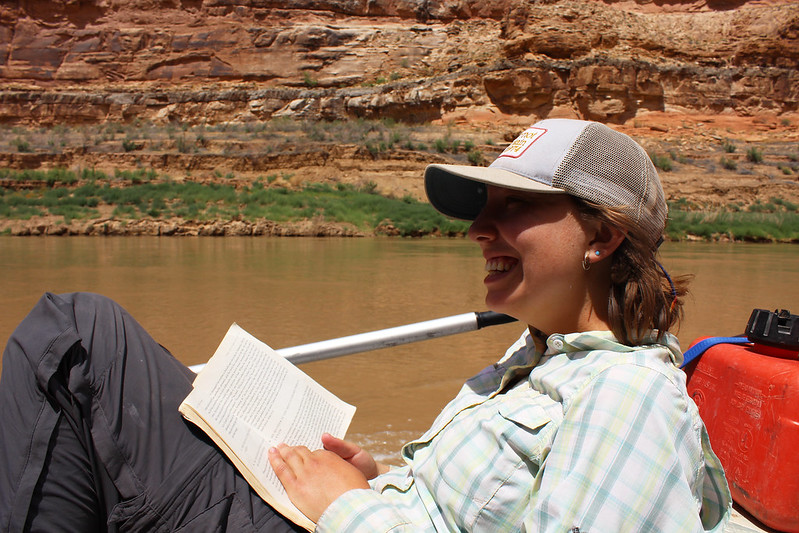 Reading has long been a quintessential path to discovery and a great way to build our knowledge and excitement before an expedition. We've compiled a list of some of our favorite books that inspire adventure, perseverance, and exploration of the world around us and the world within us.
The Wind in the Willows by Kenneth Grahame
Our Admissions Director, Ben Fickett, describes this as a nearly perfect novel about adventure and friendship.
Wild by Cheryl Strayed
Lauren Schmidt, our Executive Director, says, "Things are chaotic and up in the air for so many young adults. There's so much I find empowering about the fear, challenge, and friendship found on the trail. I feel like it resonates a lot with the time right now."
The Boys in the Boat by Daniel James Brown
Jason Davis, Business Development Manager, recommends this biography about an American nine-man crew team in the 1936 Berlin Olympics and what they all had to overcome to get there. "I think our principles and what we teach our students line up with how this team ended up overcoming adversity and (spoiler alert) ultimately won the gold medal."
The Alchemist by Paulo Coelho
Lance Plank, Southwest Program Director, thinks this is a great book to get in the right mindset for an Outward Bound course. It is a novel about self-discovery on a long journey far from home.
One Giant Leap by Charles Fishman
Doug Bridwell, our Finance Director, recommends this book about the Apollo moon landings. "Aside from being a great story, it is evidence that even when you think things are about as terrible as they can get (and 1968 was a rougher year than 2020 in many ways), amazing things can still happen. Don't ever give up."
Landscape of Desire by Greg Gordon
Steve Creech, Safety Manager, chose this book because it is an intro to backpacking in the Utah desert on an experiential education semester and looks at group dynamics, environmental ethics, reflection time, experiential teaching methods, etc. If you want to get a sneak peak of what it feels like to be on course, this is your chance.
Braving the Wilderness by Brene Brown  
Anna Bishop, Development Manager, says, "It's about finding your place and sense of self in whatever "wilderness" you find yourself in, wilderness being more of a metaphor than a place. Brown also talks about using this to relate effectively to others and about balancing strength with vulnerability, which I think is important when a lot of the narrative being pushed on kids (and all of us) right now is focused on being tough and powering through."
Undaunted Courage by Stephen Ambrose
Darcy Lattof, Development Director, says, "I just read Undaunted Courage having never read it before. I was fascinated by the expedition of Lewis and Clark and the Corps of Discovery – how the team navigated the unknown (to white men), the political desires and manifestation, and more. It was particularly interesting to read this 25-year-old book with 2020's lens of racial justice and equity, and how much has changed in those decades since its writing and how much was missing or intentionally unsaid about the impact of the expedition."
Endurance by Alfred Lansing
Mackenzie Bettmann, Course Advisor, recommends this book saying, "This is an epic adventure and such a great case study for leadership, tenacity, indefatigable spirit, enterprising curiosity, sensible self-denial and compassion."
AJ Wojtalik, our Marketing & Communications Director, refused to just choose one book. Here are her choices:
Desert Cabal by Amy Irvine
"This book is written as a letter to Edward Abbey, specifically in response to his classic book Desert Solitaire: A Season in the Wilderness. Irvine addresses Abbey's assumptions about the desert and its people with an updated perspective, bringing back long-erased voices to paint a more current picture of life in the desert southwest. It's a great pre-read before you experience this iconic landscape up close."
So You Want to Talk About Race by Ijeoma Oluo
"As issues surrounding systemic racism and social justice have become prominent topics of conversation, this book is an excellent resource for where to begin understanding — and talking about — racism and privilege. Oluo offers some useful recommendations for having tough conversations, something we don't shy away from here at COBS."
About the Author