The waters are still as cold,  
The mountains still as majestic,  
Leading others into the wilderness is as great of a need as ever.  
Learn to work together in safe environments,   
And dangerous environments.  
Come to consensus for the betterment of the group.  
The wilderness is a great teacher.     
A place to learn about one's self, one's limits, and one's future.  
It could be one of the richest classrooms of your life!  
Outward Bound; a very good idea, and proud to be part of it.
– Tap Tapley, first Chief Instructor and Staff Trainer COBS 1961-1965 
The leader…The listener…The learner…The legend – Tap Tapley. In honor of our 60th anniversary this year, we would like to hold space to recognize and celebrate Colorado Outward Bound School's (COBS) first Chief Instructor and Staff Trainer, Ernest L. Tapley, more commonly known as Tap. Tap played a major role in the creation and execution of Outward Bound, as well as outdoor and experiential education nationwide. Tap's legacy continues to live on every day through the lessons and learnings both taught and received by COBS's community.
Tap's journey with COBS began in 1961 when a group of the school's founders travelled west in hopes of gaining support and funding for the school's initiatives, along with searching for the perfect location for Outward Bound's first base camp. After hearing the Outward Bound proposal, Jack Snobble, the assistant to the Rocky Mountain School's Headmaster suggested the founders work with a "mountain man" friend of his, Tap Tapley.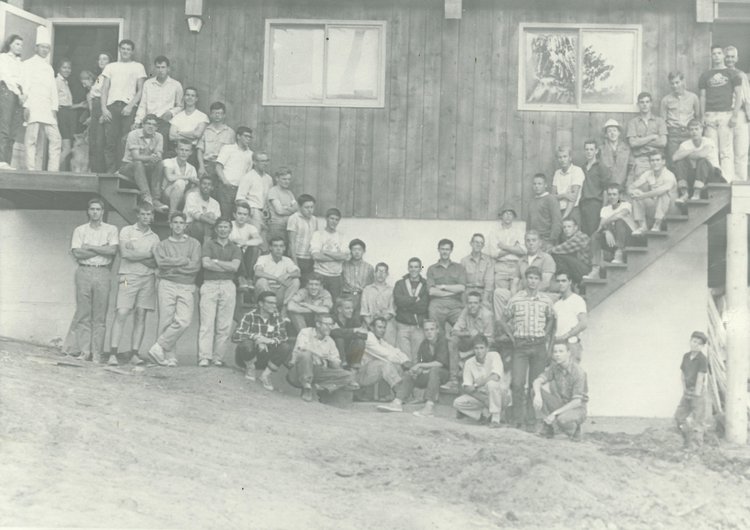 Jack stated, "There is just nothing he doesn't know about these mountains and how to function in them." The founders joined Tap on a journey to a mining claim in Marble, CO where Tap thought Outward Bound could make their home. Upon choosing the Marble location, some people within the community were skeptical, but Tap said, "we can build this place" and they did – forging a path of adventure, discovery, and development for sixty years and more to come. Tenacity in pursuit – in true Outward Bound form.
In 1961, Tap spent the summer quite literally building the foundation for Colorado Outward Bound School in Marble, CO. He bulldozed sites, cleared timber, laid waterlines, and led a group of volunteers from the Colorado Academy to lay the groundwork at Marble. It is said that Tap had the crew working hard and efficiently; together they were a well-oiled machine. Even when capitalizing the need to build the base camp in time for the first courses, Tap also left room for the crew to be comfortable, heard, and inspired. Just as he did with nearly everyone he encountered.
During the winter of 1961-1962, Tap ventured over international waters to visit and learn from the original Outward Bound program in England. Using what he learned, combined with his own experiential knowledge, Tap supported the opening of Colorado Outward Bound School in the summer of 1962 as the Chief Instructor.
It didn't take long for Tap to become Outward Bound's most adored instructor. According to founder, Chuck Froelicher, "Tap was absolutely a jack of all trades. He was a muleskinner, a Caterpillar D6— a cat skinner, a trapper, a hunter, a guide, and had been in the 10th Mountain Division, was a bow hunter, and one of the great outdoorsmen. Then eventually I learned he was an artist and played the viola. And he was literally a man of all seasons. And that was an astonishing person to find."
Tap played an important role in the growth and evolution of the outdoor industry and experiential education. As a Native American, a man of the 10th Mountain Division and as America's Pioneering Wilderness Educator, Tap paved the way for many outdoor enthusiasts after him. As we reflect on the past 60 years of changing lives through challenge and discovery, and look forward to many more decades to come, Tap's legacy lives on in each of us.
—
Visit TapTapley.com to read more about Tap's adventures, view some of his artwork, listen to him play the violin, and even submit your stories about Tap.
About the Author