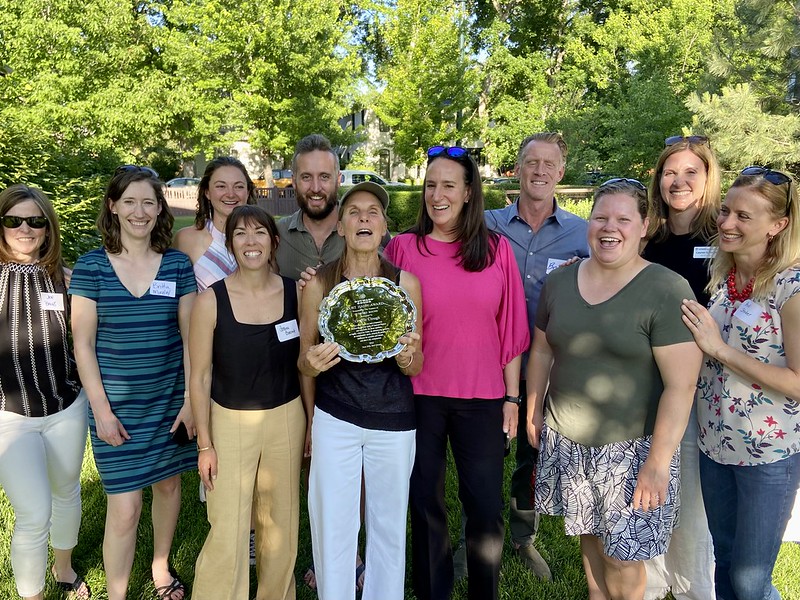 Tenacity in pursuit, an undefeatable spirit, and a desire to serve. These are the qualities that Outward Bound founder, Kurt Hahn, hoped to cultivate through challenge and discovery in the outdoors.
Over the past several decades, Gruffie Clough has embodied these qualities every day at Colorado Outward Bound School and beyond. Moreover, she has inspired countless students and staff to do the same. For these reasons and for so many more, we were pleased to celebrate Gruffie this year as she received Outward Bound USA's most prestigious recognition – The Kurt Hahn Award.
Gruffie began her career with Colorado Outward Bound School in the early 1970s as an instructor. In between her seasons at COBS, she pursued countless outdoor adventures and acts of service including climbing all of Colorado's 14,000-foot peaks, summiting Mt. Kilimanjaro 13 times, running a medical clinic in rural Kenya with her husband and starting her own leadership and team development consulting firm. Throughout her varied endeavors, Gruffie remained connected to COBS as a board member and has served in this capacity for nearly 30 years.
Her friends—knowing her outstanding impact as a leader and mentor—created the Gruffie Clough Scholarship in her honor, which supports young women on longer COBS courses. Part of this scholarship is a mentoring relationship with Gruffie. She has served as a sounding board for these students, both in preparation for their courses and in the years after.
Gruffie demonstrates the role of women in leadership at Outward Bound. Her quiet but determined leadership style is remarkable. When Gruffie speaks, we all listen. Gruffie's work is always in service of others. She is a beacon for all of us, to consider the vast roles that we can play in service of the Outward Bound mission, as leaders, and as women.
– Lauren Schmidt, COBS Executive Director
Gruffie's commitment to the next generation—of youth, of outdoor educators, and of Outward Bound—is incredible. We have been so lucky to have her leadership over the past several decades. We cannot imagine anyone more deserving of the Kurt Hahn award.
About the Author